How to save paper and other resources in your warehouse
In recent years, people have become increasingly aware of their environment – and with it, the sustainable use of raw materials and resources has become more and more important. In everyday life, you can hardly get past a product that does not emphasize how environmentally neutral and fair it is. Logistics plays an enormous role in making this claim a reality. After all, without sustainability in production, storage and transport, there will be no fair, organic and environmentally friendly produced products on the supermarket shelves. Against the backdrop of the new supply chain law, the topic must be tackled in many companies anyway, especially with regard to logistics processes. But what does sustainability look like in the warehouse in particular?
On the way to more sustainability in the warehouse
According to the WWF, almost every fifth industrially felled tree is processed into paper. It is not uncommon for me to see customers using thousands of pages of paper in a single day when inspecting existing warehouses prior to an SAP S/4HANA transformation or when replacing legacy systems. Every warehouse activity, whether it's putaway and transfer or picking and staging, is handled via slips of paper. However, to make the promises of the Paris Climate Agreement a reality, paper consumption in the warehouse must be reduced to zero as quickly as possible!
For the most part, there is no reason, supported by sound arguments, for activities to be documented on paper. This circumstance is merely due to history, when handheld scanners and mobile devices were not yet widespread and played no role in logistics. But the paper-based flow of goods contradicts the principle of Industry 4.0, whose goal is complete digitalization, due to the high process risk.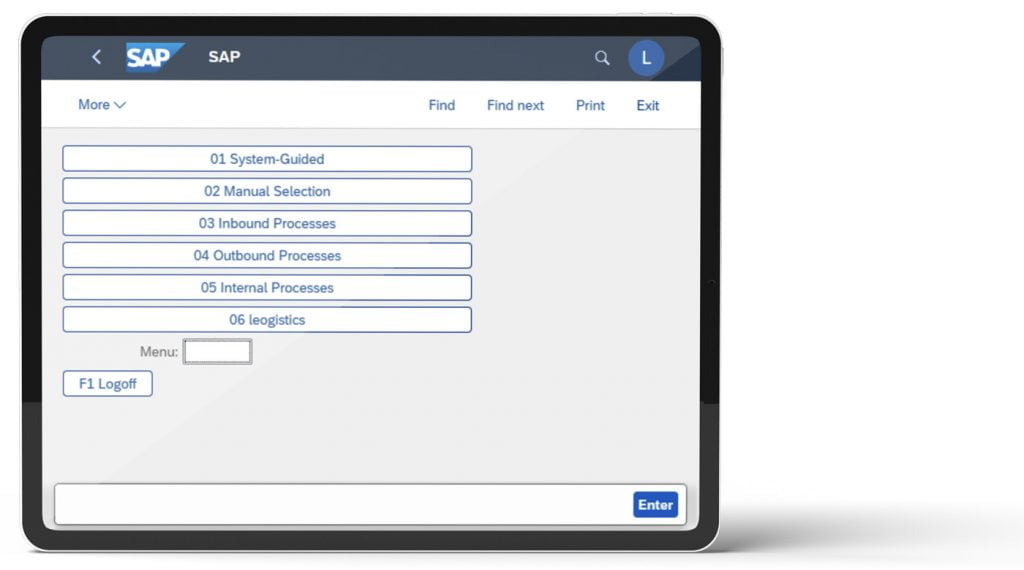 01. Replace paper with scanner applications
Do you want to reduce paper consumption in your warehouse as a first step? SAP EWM supports you in your project by means of scanner applications (Radio Frequency), which can be executed on mobile devices, to map any warehouse processes system-guided and paperless. By eliminating paper, your supply chain processes not only become more sustainable, but also more efficient and transparent. Every warehouse movement is documented and the employees are guided by the system during their work. As a nice side effect, missing or misplaced pallets and stocks become a thing of the past and you gain more flexibility and quality.
All information is available in SAP EWM in real time, bringing transparency and enabling fast reactions in ongoing operations to ensure a smooth process flow from receipt to the provision of goods in the goods issue area or on production and assembly lines.
02. Reduction of packaging waste
But eliminating paper alone is not enough. Every one of us has experienced ordering a product from an online mail order company that was delivered in packaging that was far too large. How this happens is relatively easy to explain: The personnel in the warehouse are under enormous time pressure in their work and, when in doubt, they reach for the bigger one when choosing a carton.
In this case, SAP EWM's automatic packaging planning comes into play, which supports the respective employee both with a suggestion on the packaging material to be used and with finishing and shift patterns. In the course of SAP S/4HANA 1909, the possibilities in EWM have been further extended by means of the Package Builder introduced earlier in SAP TM, in order to package goods on the basis of certain specifications such as orientation, stackability or dimension.
Package Builder Process logic
03. Bundle deliveries with wave management
In order to take full advantage of automated packaging planning, it makes sense to bundle several deliveries and pack them together. A scenario that is not uncommon is that customers order several deliveries a day with a time delay, which could be shipped together instead.
With SAP EWM's Wave Management, these individual deliveries can be grouped and picked and packed together. The distances in the warehouse are reduced, because the picking of the products is done in combination and the number of packages to be shipped decreases. This results in optimization and time savings in the picking and packing process as well as a reduction in transport and shipping costs due to the best possible use of load carriers. Here, too, packaging material can be saved on the one hand and, on the other hand, energy can also be saved due to the fewer distances covered, e.g. by forklift trucks.
04. Use cargo space optimization in packaging planning
The SAP TM-EWM integration allows the savings potential to be exploited even further. In addition to packaging planning, load space optimization from SAP TM can be used for trucks, trailers, and containers. During planning, capacity restrictions in terms of dimension and maximum axle load are taken into account by the system and transmitted to EWM in the form of loading sequences, which have to be taken into account by the personnel during loading.
This prevents cargo space from being lost due to inaccurate loading and reduces or even eliminates unnecessary, underutilized shipments.
Sustainability is not a cost driver in logistics per se. On the contrary, sustainability offers immense potential for reducing costs and helps to make processes more stable and transparent through digitalization. If you also see a need for optimization in your processes, please feel free to contact us.
If you have any questions about this or other topics in this blog, please contact blog@leogistics.com.
Dennis Lauton
Senior Consultant SAP Logistics

without sustainability in production, storage and transport, there will be no fair produced products. What does sustainability look like in the warehouse?

New interfaces and a deeper integration of the trades require a solution that fits the requirements and in which SAP logistics standard products like SAP EWM can be embedded.
Latest news and blog posts from the world of intelligent supply chain management.