The Internet of Things (IoT): A collective term for technologies of a global infrastructure that allows physical and virtual objects to be cross-linked. Industrial IoT is specifically about the needs of companies to increase the level of automation by using smart devices.
The topic of IoT is currently experiencing a strong tailwind. Sensors and devices are becoming smaller, less energy-hungry and in many cases, prices are falling. Many devices are already smart by nature, i.e. they have network access and can be used on the move. The 5G standard with Narrowband IoT is also being expanded more and more, allowing information to be exchanged over long distances in a resource-saving manner.
In the following, we take a look at the architecture and application scenarios for the field of logistics.
Application fields for sensors
There are many places in the operation of a yard or warehouse at which environmental variables can be recorded, processed and provided by sensors to digitize and automate processes:
Temperature sensors, for example, can be very well integrated into the IT landscape using IoT. Performance data can be used for quality checks and generate warnings.
Frequently, those smart sensors can also measure air pressure and humidity, which can be particularly useful in the manufacturing industry or for bulk materials. Motion or inclination sensors in mechanical and plant engineering are able to identify accidents. If, for example, a critical event has been reported, a necessary check of the plant can be pointed out in order to support compliance with quality standards.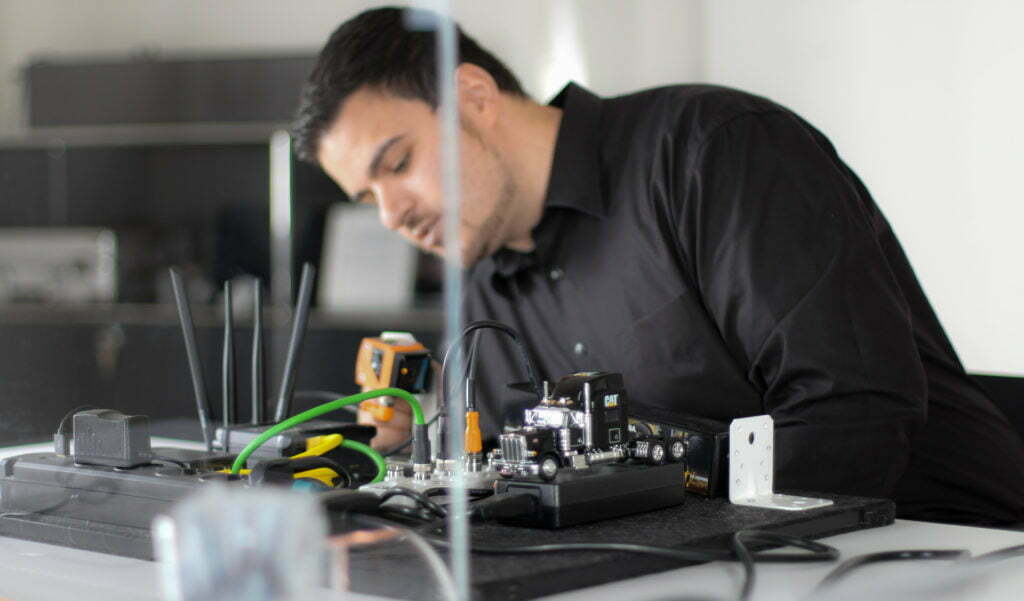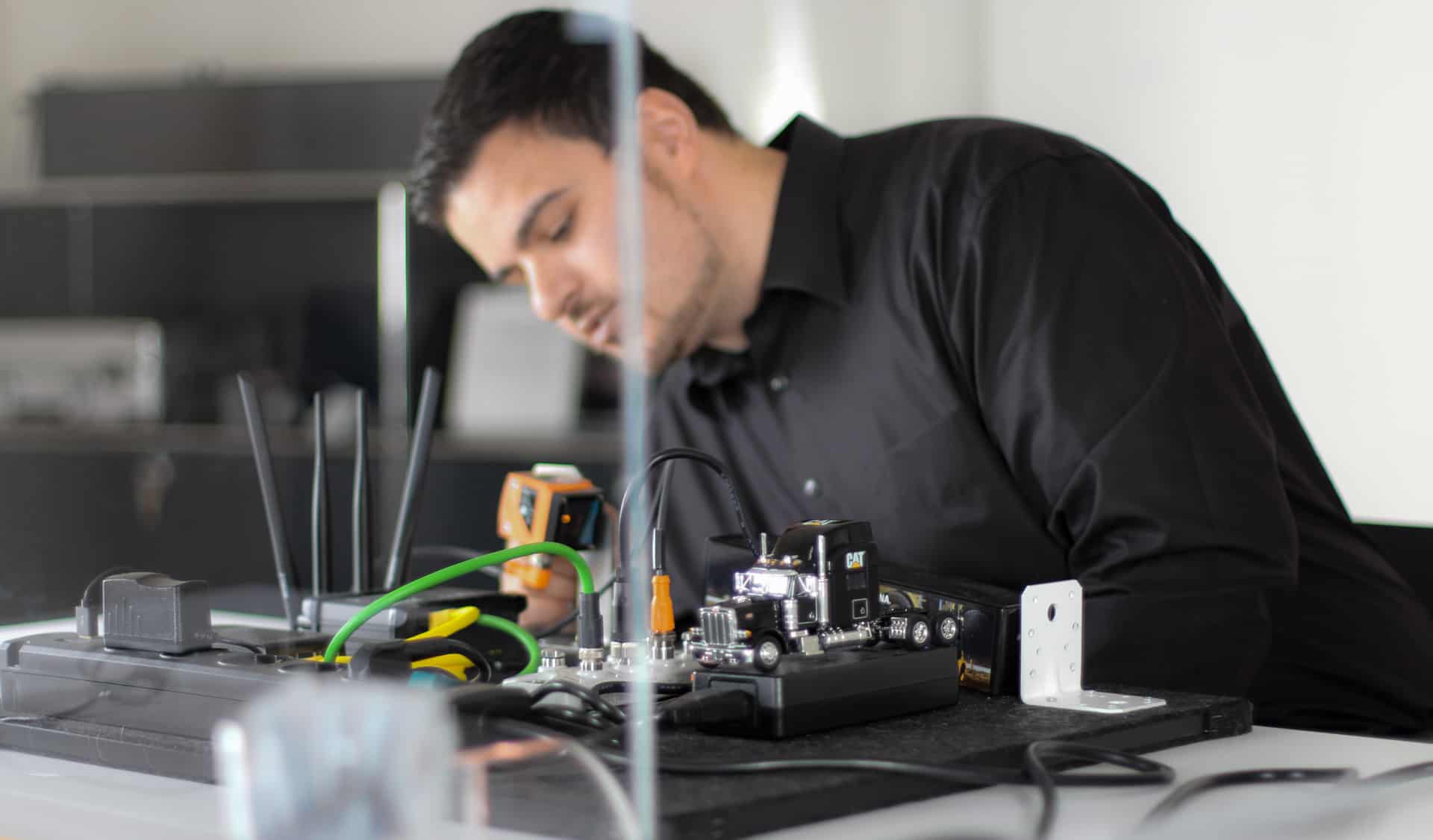 Who promotes the use of IOT in companies?
In our experience, internal IT often has an open ear for IoT scenarios. They receive requests from very different departments. The demand for up-to-date information in production, process progress in logistics handling and planned downtime for equipment maintenance is complex and by implementing a smart factory approach through the use of IoT this scenario would be considerably simplified.
The employees of these departments are also accustomed to smart devices and (partially) automated processes from their private environment. Increasingly, colleagues are also looking for new opportunities in their professional environment, such as the use of sensors to increase process reliability and digitize data.
How a potential architecture might look like?
In IoT scenarios, the primary objective is to collect, process, provide, analyze and, if necessary, use information as a trigger for a follow-up action. Depending on the area of application, it may be interesting to carry out a pre-processing of the data (Edge IoT), if the devices have the necessary computing capacity.
In the fourth stage of transformation, as defined by Industry 4.0, the focus is on automation through IoT, among other things. As shown in the following graphic, the factory floor (also called shop floor) forms the basis for automation.
Production takes place on the factory floor. This is where assembly lines run and forklifts store and retrieve goods. All of these procedures allow processes to move forward.
From order receipt, through production, to delivery to the front door, status information can be tracked based on a customer order and displayed in an app, for example. For production, data about the machines as well as stock levels (e.g. via optical sensors or level sensors) can be monitored.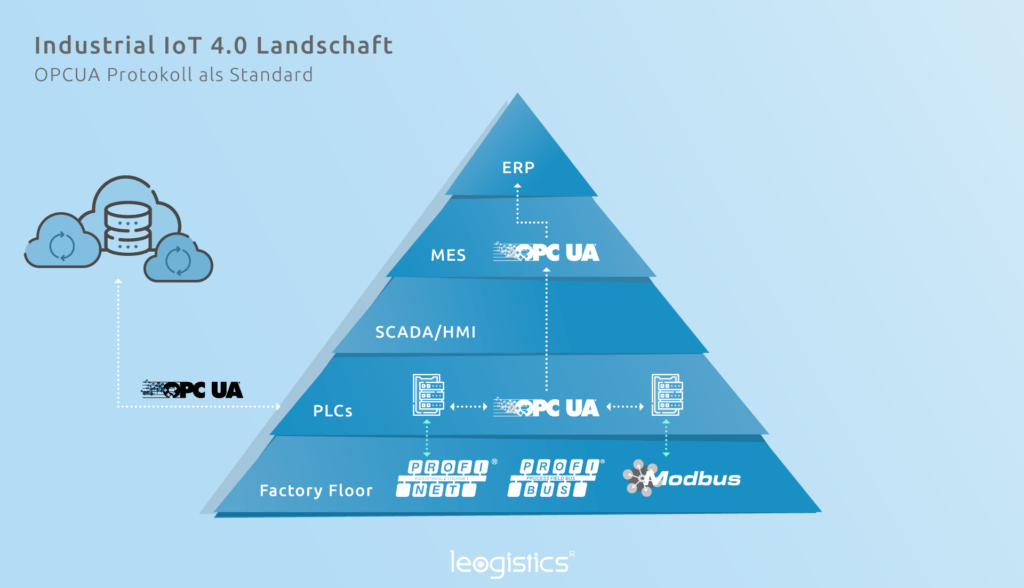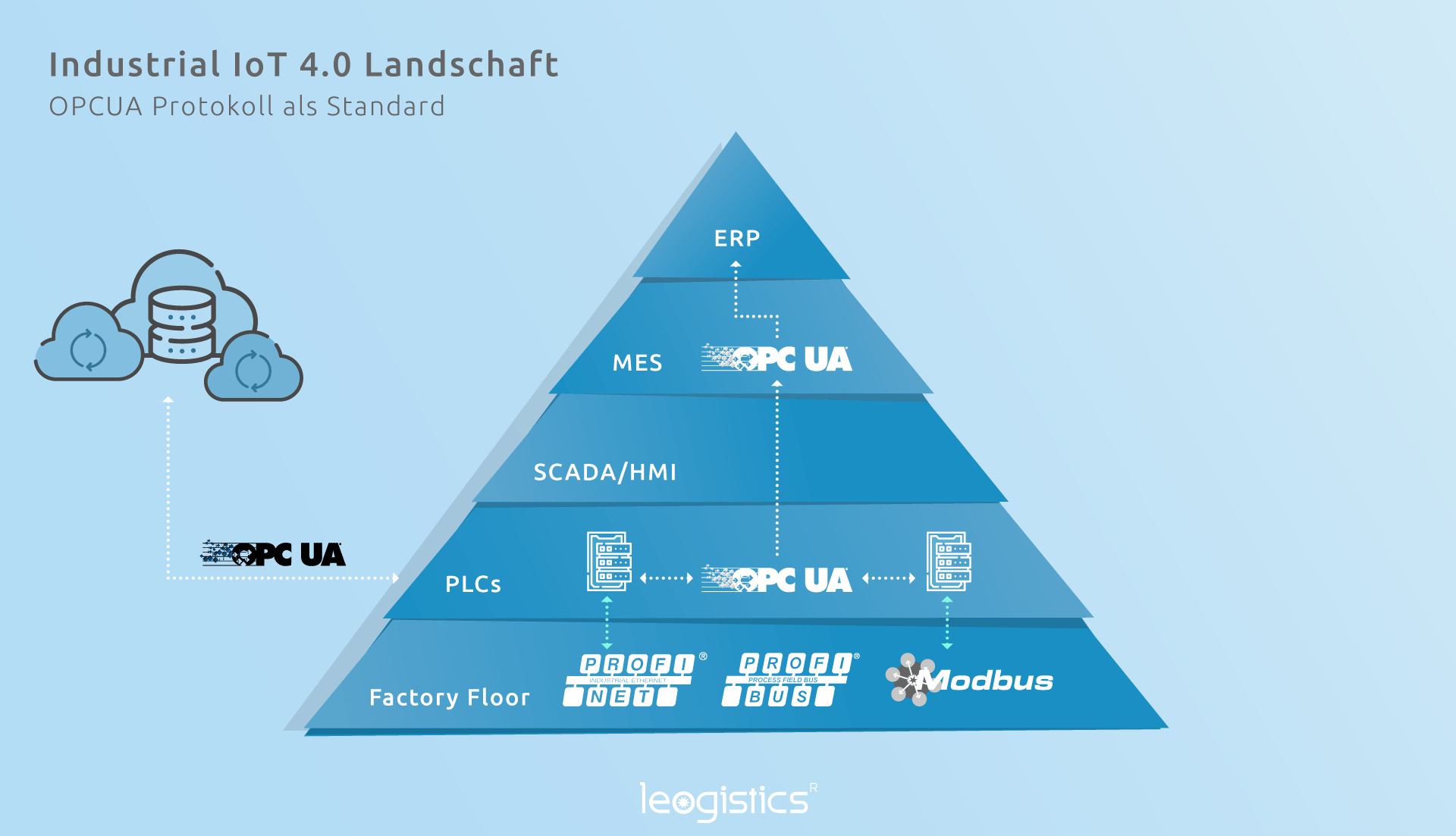 The data converges in the PLC layer (Programmable Logical Controller). This is where the logic and evaluations for the factory floor are located. In classic scenarios, the data is used exclusively for monitoring the machines and their control. Closely linked to this are the Human Machine Interfaces (HMI) for controlling the plants.
SCADA (Supervisory Control and Data) is used to generate statistics and enable the monitoring of the plants.
Everything is ultimately bundled in the process-oriented, multi-layer production management system, the MES (Manufacturing Execution System).
New in the fourth stage is the integration with ERP (Enterprise Resource Planning). The data is prepared and transferred to the ERP layer via IoT gateways and special IoT protocols such as MQTT or OPC-UA. Here, the data obtained using IoT supports the automation of resource planning, the automatic updating of documents, locations, locations and stock levels as well as the automatic triggering of orders and the associated steps in the workflow.
Application example truck dispatch
Why the temporary IOT will accompany us even longer?
Anyone who collects and analyzes data also wants to derive further information and draw conclusions. Companies are increasingly being supported in this by artificial intelligence and machine learning. The general trend towards automation and digitization is promoting the use of IoT devices. Smart maintenance (up to and including predictive maintenance) and remote maintenance also play an increasingly important role in process automation.
In order to remain competitive and not to miss the boat, it is now necessary to identify areas of application for IoT and to check the existing IT architecture for future security. In our webinar on possible applications of IoT in logistics, we will show you what experiences we have made and where we can support you.
If you have any questions about this or other topics in the blog, please contact blog@leogistics.com.
Steven Klein
Jan-Philipp Horstmann
leogistics GmbH