Standardize, automate, and increase transparency of your check-in process with kiosks
Some of our blog articles deal with the optimization of throughput times for trucks on the yard. They cover the notification of arrival times, the provisioning of goods and self-check-in.
Today, we would like to present another component for process improvement: The kiosk.
A kiosk is a device station for entering and displaying data. In the process of loading and unloading they are used as independent hardware and offer the possibility to record and store data that is necessary in the process flow. This means that kiosks can be used in a wide variety of areas, and can also be operated by external users without training thanks to the guided image and input sequence. This creates a high degree of transparency and process reliability and leads to an increased throughput time of trucks into or leaving the site.
Advantages for the shipper
As part of self-registration at entry, tare, weighing, and exit, kiosks offer the possibility to involve the driver in the process. For the loading or receiving company, this also leads to a decrease in manpower requirements.
The handling of vehicles can be further standardized and automated with the help of a kiosk. A predefined, fixed, and system-supported procedure ensures process reliability; intervention is only necessary in exceptional cases. In addition, data is recorded in an orderly and uniform manner.
Advantages for the driver
In addition to the loader, a hardware-supported process also offers a number of advantages for the driver. The operation of the application in the driver's own language likely represents the greatest added value for the driver. In addition, there are shorter waiting times, and easy-to-understand digital instructions on site-specific characteristics.
An automated seal output and notation of the seal number on delivery documents minimizes a risk through digital process control in everyday handling—in many cases caused by misunderstandings and communication problems.
Increase safety on your factory premises
If safety instructions are included in the registration process, important information can be exchanged with the truck driver, e.g.:
What special rules must be observed when visiting the plant?
Which load and which form of load securing was selected?
Has all information regarding the data protection and privacy regulations been made available and accepted?
The printing of routing slips for better orientation in the process and on the site can also be very helpful. Printed routing slips and, if necessary, support by large outdoor displays minimize mis-direction and the occasional risky turning maneuver.
Finally, checks for valid entries such as telephone number, license plate, or container number also increase the safety on your yard.
Choosing the right hardware and installation site
A shelter for kiosks to provide additional weather protection in outdoor places is highly recommended. This also applies regarding installation safety, in particular for protection against vandalism and damage by trucks. Kiosks are generally available as indoor and outdoor variants. If kiosks are to be operated from the vehicle, additional structural collision protection must be provided.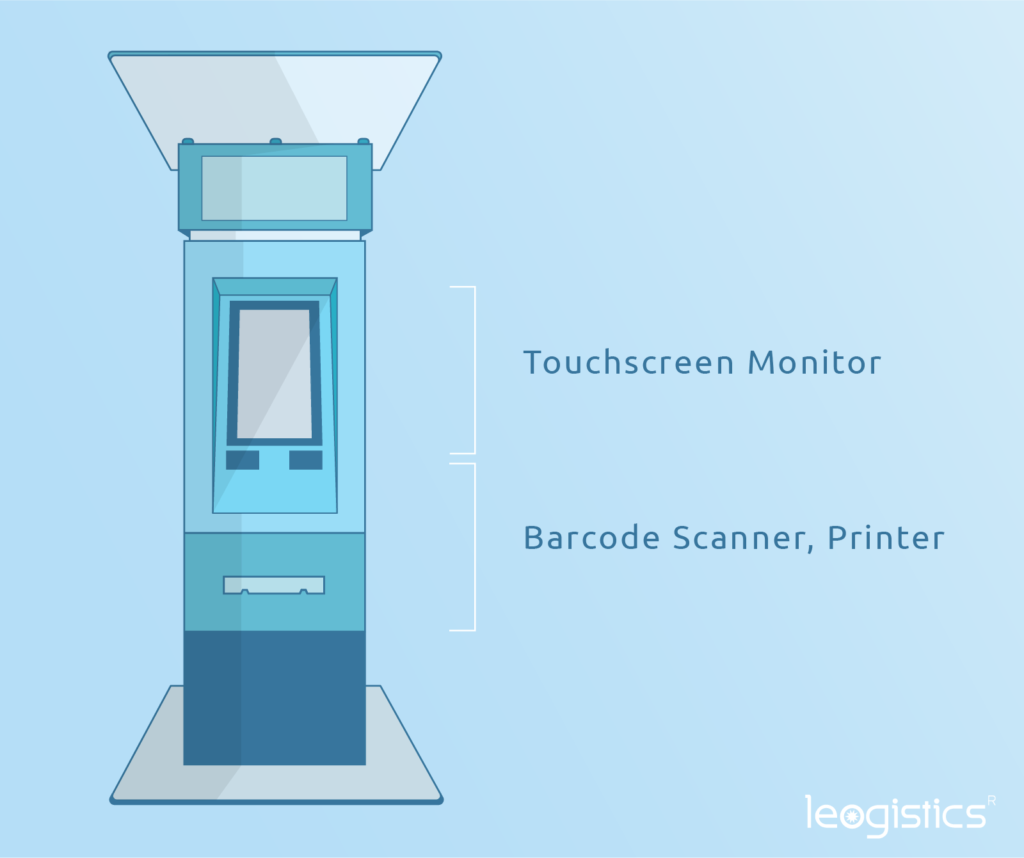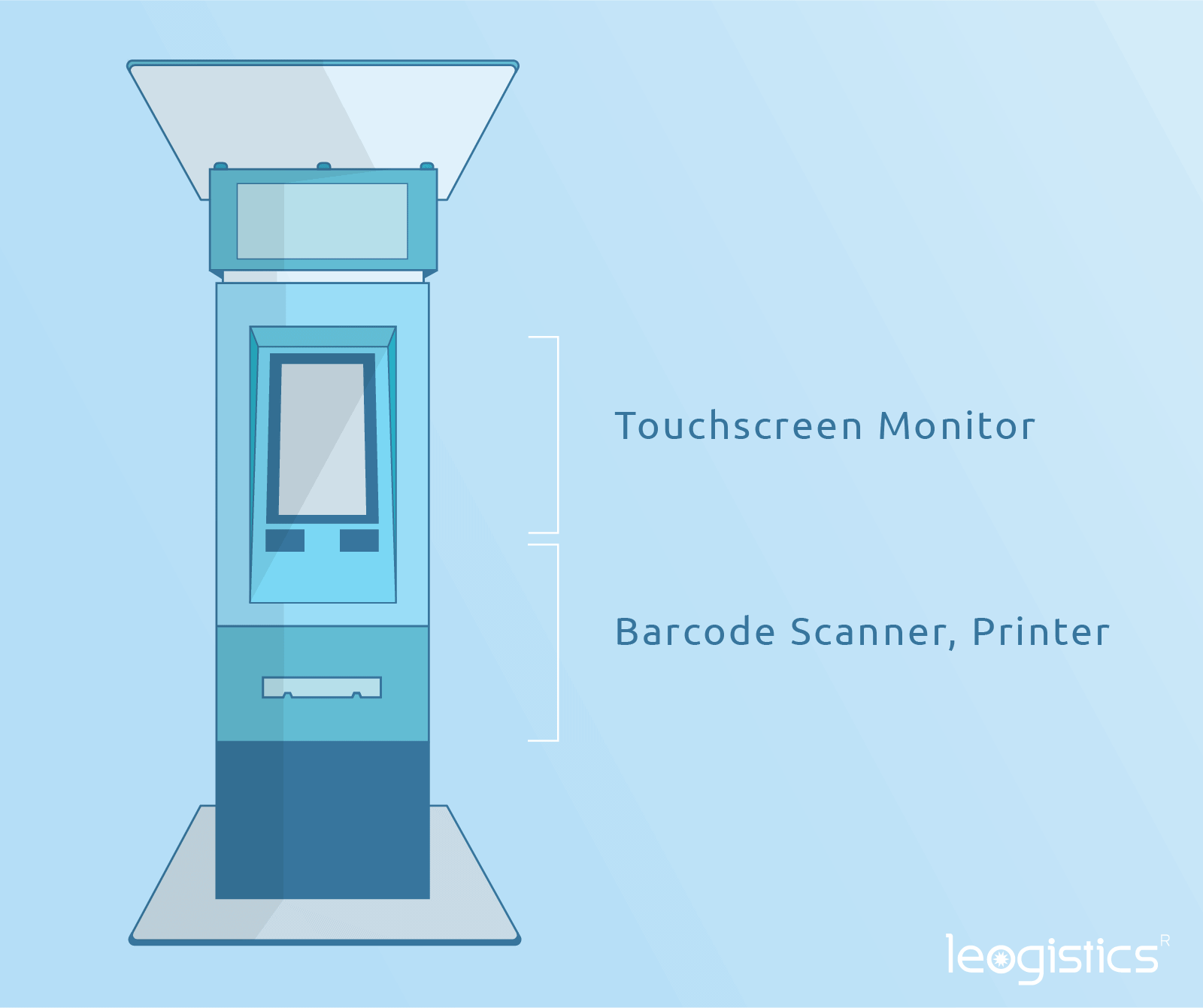 Built-in input and output devices and materials should be selected to withstand sunlight and weather conditions. The device must be fully functionable even in adverse weather conditions. It also makes sense to install heating and air-conditioning elements in order to create ideal ambient conditions for the technology used and to ensure that it functions properly.
In order for self-service kiosks to function reliably, power and network access must be provided on site. In individual cases, network access is also possible via Wi-Fi or the mobile phone network, though we recommend a wired solution for maximum availability.
Smart self-check-in-kiosks
A successful integration of external service providers into your logistics processes is also characterized by the fact that self-service kiosks are not provided as isolated solutions. The check-in and weighing kiosks are integrated directly into your SAP landscape, enabling instant information validation and direct master data access. From the kiosk you can control the associated hardware, such as printers, barcode scanners, barriers, and traffic lights. This increases process reliability and simplifies technical installation.
Most importantly, you must have the ability to control processes flexibly with the user interface and dialogue screens. The screen sequence should be based on the next necessary process step.
From a user experience point of view, the kiosk dialogs should follow familiar and common guidelines for touch screen apps, which most are familiar with from smartphones. The user interface should provide the possibility to include additional information such as comments, or customizable site-specific fields.
Possible dialog sequence on a kiosk during the check-in process
If an operator should have problems with the application, an intercom, and a team with remote access to the kiosk interface can be very helpful. This allows an employee to work together with the visitor to complete the process. If it is not possible for a user to complete the process within the tolerance time, we recommend forcing a restart by using a pre-defined time-out.
A picture is worth a thousand words
Wherever possible, simple images or pictograms are preferable to complex wording. Nevertheless, text-based information is often used.
In order to ensure maximum comprehensibility, it must be possible for the user to select a language. Ideally, the most common languages of potential operators should be provided. In addition to the use of catchy images, a progress indicator can increase the user experience.
Prototyping in just three steps
With little effort, it is possible to test the advantages of one (or more) kiosk applications on your premises, providing a convincing argument to process participants.
Only three steps are necessary:
Process recording for check-in / check-out
Configuration of an application including screen sequence and input fields
Installation of the application on a tablet for first, accompanied tests with key users
Once these steps have been completed (including any improvements resulting from the test operation), the installation of a physical kiosk and its integration into the live processes can be continued.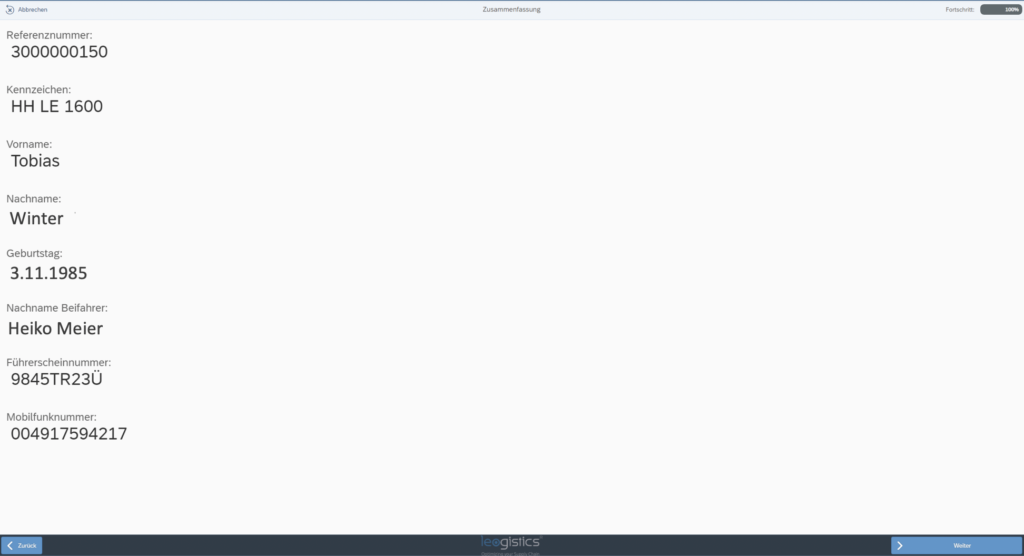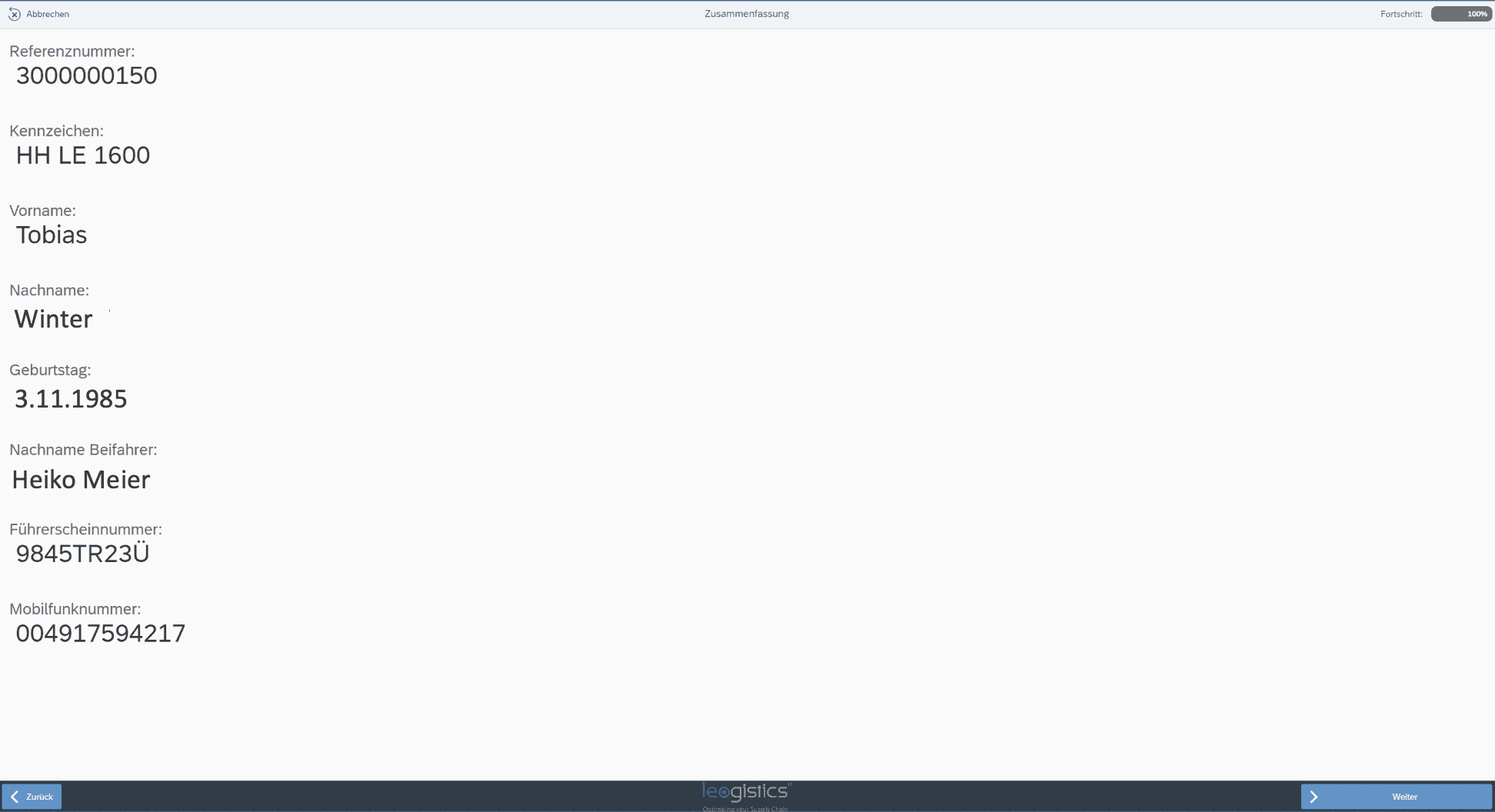 Integrated processes through software and hardware from a single source
Self-service kiosks typically come with high acceptance rates when they interact in harmony with existing IT systems. Using leogistics kiosks, the application running on the devices is fully integrated with the underlying Yard Management software. This applies both to the SAP-based on-premise solution, "leogistics d.s.c." and to the cloud based "myleo / dsc".
Are you interested in the integration of kiosks for automation of truck processes on your yard? Contact us today for a deeper dive into your site-specific processes!
If you have any questions about this or other topics in the blog, please contact blog@leogistics.com.
Benedikt Martens
Jan-Philipp Horstmann
Consultant SAP Logistics