MASTER DATA INTEGRATION VIA DRF UNDer S/4HANA Transportation Management (side-by-side)
You have made the decision to implement SAP S/4HANA Transportation Management in your company and have decided on the side-by-side scenario? One of the first challenges will now be to transfer your master data to the new system. This raises fundamental questions: Has the transformation of the ECC system to S/4HANA already been started or completed? Do business partners exist in the ERP or may they be created there as part of the project?
Whereas in the classic SAP Business Suite TM, i.e. SAP TM 6.0 to SAP TM 9.6, data exchange was still carried out with the Core Interface (CIF), SAP with S/4HANA relies exclusively on the Data Replication Framework (DRF). CIF is therefore obsolete and should no longer be used.
What is the data replication framework?
The DRF can be used to replicate both transaction and master data from a source system to one or more target systems. Replication can be performed using Enterprise Service, IDoc or file download. DRF provides filters for data selection to restrict the data to be replicated.  If a key mapping cannot be avoided, you can use the Unified Key Mapping Service (UKMS) to use different IDs in the individual systems. It is also possible to set up a value mapping so that the target system can also process the sent data.
In the context of SAP S/4HANA Transportation Management, master data such as business partners, locations and products are transferred. Enterprise services are mainly used for this purpose. In the side-by-side scenario, IDocs are also used, depending on the initial situation.
So-called replication models are used to determine which outbound implementations should be used for specific target systems. It is also possible to assign or override parameters and to restrict the language of the texts and descriptions to be transferred. If the language is not restricted, all languages are transferred. This can lead to errors if text fields are mandatory.

The outbound implementation to be used is determined by the respective integration scenario.
Outbound implementations consist of a business object, filter object, and (optional) parameters, among other things. If the transfer takes place by using Enterprise Service, you must also define a service operation in Customizing.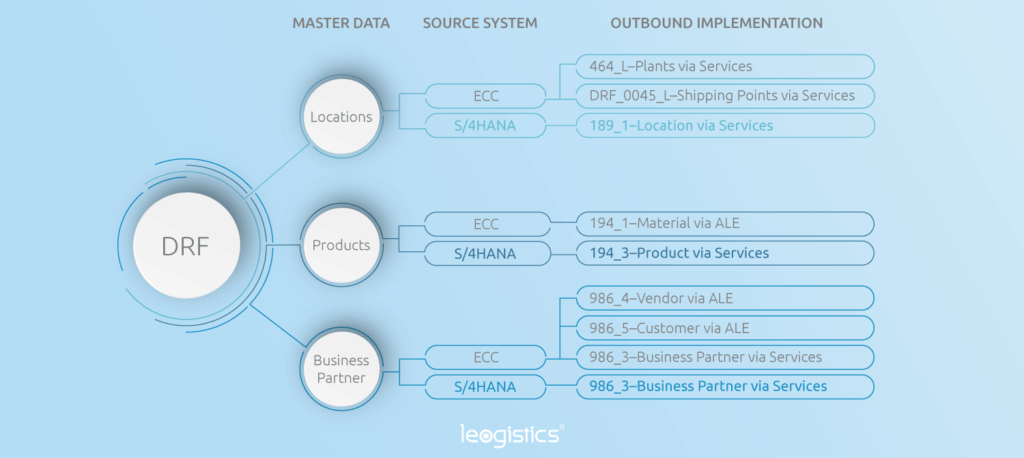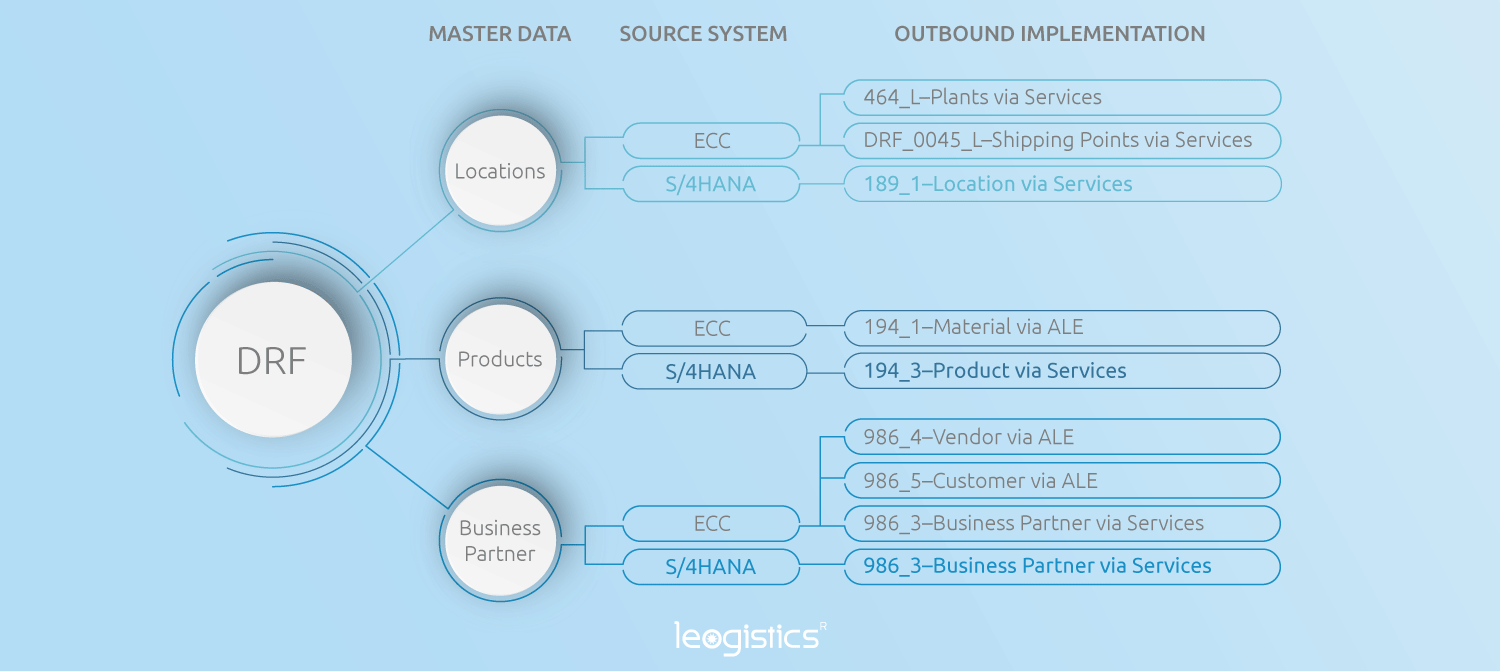 DRF-Integration with SAP S/4HANA Transportation Management
Depending on whether the source system is an SAP S/4HANA system or a classic SAP ECC system, there are two options for master data integration with the DRF.
SAP S/4HANA as a source system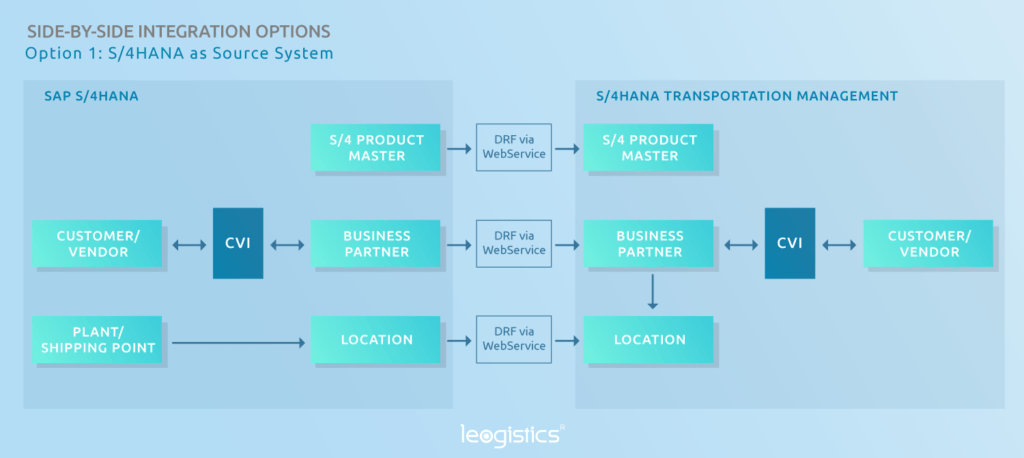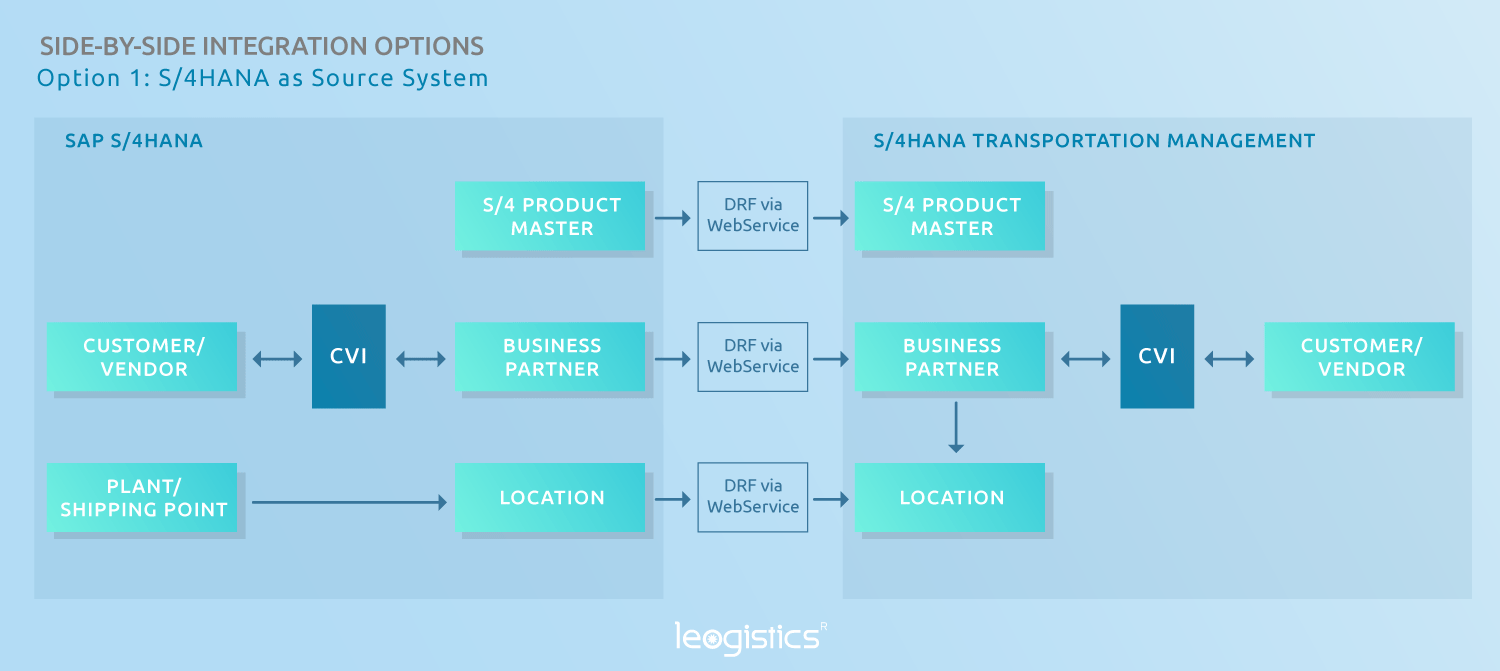 Replication of site and shipping point
The use of enterprise service allows the direct transfer of locations, since location structures are available in S/4HANA and can therefore already be created in the source system.

REPLICATION OF MATERIAL MASTER DATA
Transfer of material master data via Enterprise Service is possible because S/4HANA consolidates the ERP structures of the material master with module-specific fields (such as /SAPAPO/ or EWM). The obvious reason is that with S/4HANA the functionalities of all migrated modules are now available within a single system. To avoid data redundancy, there is therefore a uniform S/4HANA Product Master.
Transactions such as /SAPAPO/MAT1 are only used for maintaining the module-specific fields. Data fields that have already been integrated into the material master can only be displayed in this transaction.  It would therefore not be surprising if the additional transactions for material or product master data maintenance were to disappear completely in the future.

Business partner replication
Business partners can be transferred directly. A prerequisite is that the configuration of Customer Vendor Integration (CVI) has been made in both the source and target systems.
With the CVI, SAP provides a technology that serves to synchronize business partners in customers and vendors and vice versa.

SAP ECC AS THE SOURCE SYSTEM
Replication of sires and shipping points
Location structures are simply unknown to an SAP ECC system, so they cannot be transferred directly or created in the source system.
Separate outbound implementations are available here for plants and shipping points.

Replication of material master data
A special outbound implementation is available for transferring material master data, which uses the MATMAS IDoc as the transfer medium.

Furthermore, if material master data is to be created in the target system, basic Customizing is required, such as that for units of measurement or material types in the target system. Since the complete material master is usually not required in SAP S/4HANA Transportation Management, it is recommended that you work with a reduced message type.  The customer-specific message type reduces the amount of subsequent Customizing to a healthy level and can be transferred to the target system relatively easily using BC Sets.
Business partner replication
There is no longer a direct transfer of creditors and debtors possible. Instead, you must configure Customer Vendor Integration (CVI) in both systems, depending on whether business partners may be created in the source system as part of your project.
If business partners are not allowed to be created in the source system, special outbound implementations are also available here that use DEBMAS or CREMAS IDocs – the configuration of the CVI is then only required in SAP S/4HANA Transportation Management to be able to create business partners from the customer master data.

Best practices by leogistics
When transferring master data within SAP S/4HANA Transportation Management projects, the rules and conditions that were still valid in the Business Suite differ considerably.
In the meantime, we have dealt with a wide variety of integration scenarios in our projects and would like to share our findings with you here. We can provide you with the following tips.
If you have any questions about this or other topics on the blog, please contact blog@leogistics.com.
Florian Gerlach
Technical Consultant SAP Logistics